Shila Garg May 27th, 2008
Kalakshetra is a school of fine arts (and part of a larger foundation of the same name) in Chennai. It reminded me very much of Shantiniketan, the school founded by Rabindranath Tagore, with its beautiful trees and serene setting. Leela Samson, the director of Kalakshetra and an accomplished Bharata Natyam dancer, started our session in the prayer space, under the huge banyon tree (an offspring of the famous banyon tree of Chennai). She gave us the history of the institution and an explanation of the vision of Rukmini Arundale, the founder.
Following the introduction, we went into a small auditorium, after removing our footwear. The space where Bharata Natyam is performed is often treated as a holy space. In fact, in India, arts, music and classical dance are closely linked with the divine; arts are always performed or created as devotional offerings to the Gods.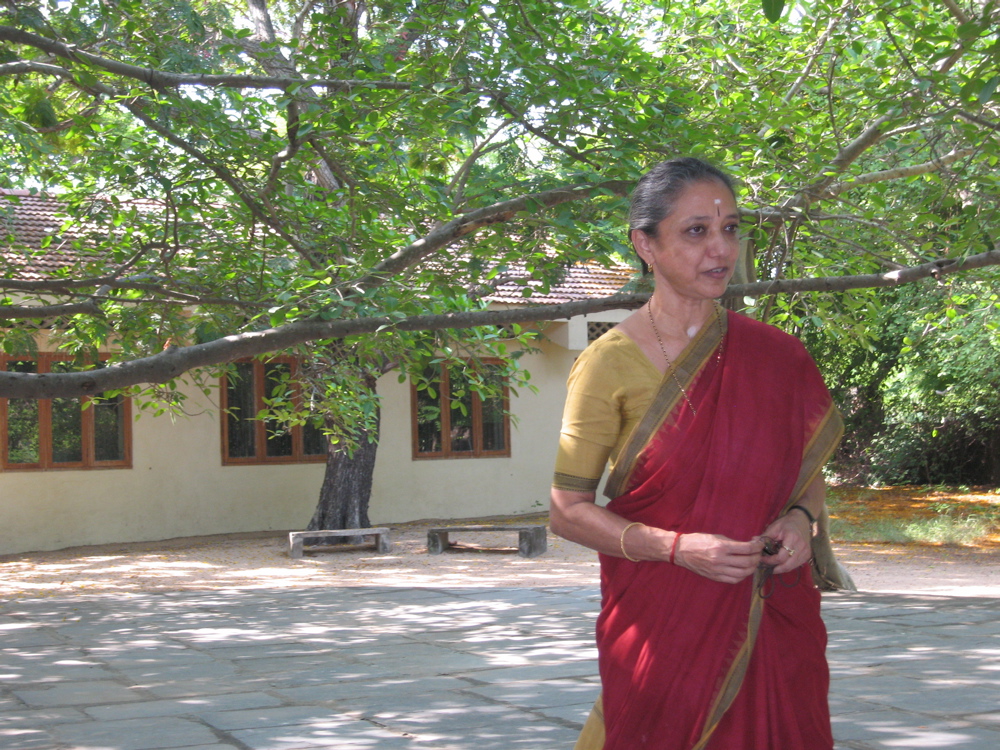 Leela Samson gave us a lecture demonstration on the art form of Indian classical dance, illustrated by two dancers, one a faculty member and the other an archivist. She had them demonstrate ten different postures or forms, footwork, over twenty 'adavus' that are hand gestures that portray animals or birds or simply actions, and facial expressions and eye movements that portray emotions. The very complex performance combines all these various pieces with a rhythm and pace that is precise and wonderfully graceful. The movements are fluid and convey stories. We were all mesmerized watching the dancers and marveling at the balance among the various aspects. The dancer in fact starts off with a prayer and a supplication to the earth goddess for the pounding she is about to receive. The footwork itself is gentle at times and powerfully loud at other times.
We also heard a little about change in the societal norms with respect to women's performing the dance. Even a few decades ago, women of respected families were not allowed to perform in public, since the dance originated as an art of devadasis, women who had dedicated their lives to god as temple prostitutes. This form of dance started out as a very individual form of art, but has evolved now into group performances or duets.
Because both Leela Samson and her dancers are artists and teachers of the first rank (Samson has received the highest civilian award from the president of India), we were enormously privileged. The clips below (be patient the first time you click) show Leela Samson explaining and her dancers, Haripadman and Sarita. It's worth watching the dancers more than once to see how the movements of upper and lower body combine. The lower body is often percussive; the upper body (head, eyes, arms, hands, torso) conveys a complex melody.